Optimism
You were here, then you weren't.
It came all at once, all of your bad side, and I always knew it would some day.
But not like this, I can't say you didn't catch me off-guard. You did everything in your power to break me, my trust, us. Congratulations today, I must say you succeeded.
Today feels a little bit like a dream nightmare. Everything I thought could never come true, did. Everything you ever promised fell like a thousand shattered pieces of glass through my earthen skin. Like blades in moist soil, you kept cutting through, you kept defeating parts of me. One, after the other, after the other. I didn't know after a point if you changed from the person you were, or if you became what you were always meant to be. Because you were such a natural at it! Everyday, a new face I couldn't have ever imaged, you put on, you did. You paraded with pride, wearing all that deceit and hate, and I continued to look away.
I do not, anymore.I do not remember, nor do I care to forget. Your reality stands naked in front of me, as shallow as the promises you made, but I can't say I don't miss you. Oh, how I do. Everything feels different and everything I knew about us has changed, but no, I can't say I don't terribly hug it to my chest everyday. Because you were beautiful, in whatever way and for however long, you were beautiful.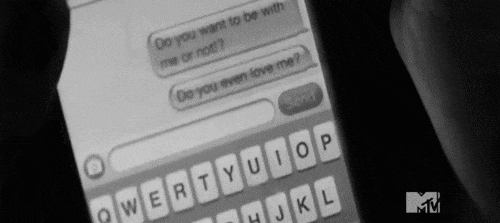 More than most things, lesser than few.

And that's an honest accomplishment, anyway. Because when you did well, you did well. Even the days you faltered, you stood your heart in an honest place. I suppose that is why I stayed so long, I waited for the honesty to leave your eyes, praying it wouldn't, but soon, it did. But I did love you, you see. For strange reasons, in wilder seasons...you held me to the ground.
So yes, each day I crave you, and that's not entirely true, for I only miss the old you. They say you should love the other in all their dark, gray and happy...but what you turned into was no color of you, and you had me take the dirt for it. Just like the world does, with everyone they see hopeful, with everyone they find cheerful. You grabbed me by the neck and brought me back to reality. How beautiful a dream that was!
So go, be you. Whatever version of you this is, go be yourself. I cannot stop what is not mine, and you were always a free bird. Love loves unconditionally, and I have learnt to love myself today.
I suppose all you can do in the end is be grateful. For the good times and the bad. For honesty and lies. For experience.
I have an older sister. A mother. A father. And a few foster cats who I suspect are finally starting to love me back.

But then I also have a grandmother, a whole bunch of cousins and aunts and uncles who I don't meet nearly as much. But then when I do, when all of us get together...things happen. To say the least.

Keep reading...
Show less
Aug. 16, 2017 10:51PM EST
Featured
Aug. 15, 2017 11:02PM EST
Gobble


Want a Freshly Brewed Batch Of Content To Start Every Day? Sign up for our newsletter!
Aug. 14, 2017 10:58PM EST
Awesome
Aug. 14, 2017 10:50PM EST
You
Aug. 14, 2017 10:39PM EST
Humour
Aug. 14, 2017 10:35PM EST
You
Aug. 11, 2017 12:35AM EST
Art
Keep reading...
Show less
Trending
Aug. 10, 2017 10:03PM EST
Animals
Aug. 10, 2017 09:50PM EST
Art